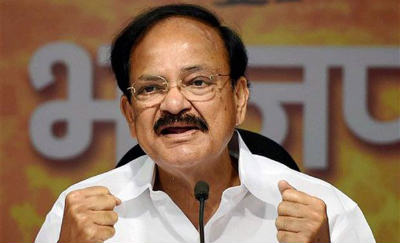 Muppavarapu Venkaiah Naidu, is one of BJP's tallest leaders and is the brightest figures from the southern state of Andhra Pradesh to represent the party at the national level. He has tremendous knowledge and experience in the field of politics and he is one of the wisest and experienced leaders of the BJP. He was the Minister of Rural Development in the NDA Govt., led by the then Prime Minister Atal Bihari Vajpayee. Currrently he is the Minister for Urban Development and Parliamentary Affairs in the Narendra Modi Government. It had been exceedingly difficult for the Lok Sabha to function properly in the Monsoon Session, due to the insensitive and hollow Disruptive tactics of the Opposition Parties. Naidu, has not at all been happy with the way things are going on in the Parliament. So what lies ahead for the veteren politcian? Ganesha takes a peek…
Venkaiah Naidu:-
Date of Birth :- 01st July , 1949
Time of Birth :- Not Known
Place of Birth :- Chavutapalem, Andhra Pradesh, India
SOLAR CHART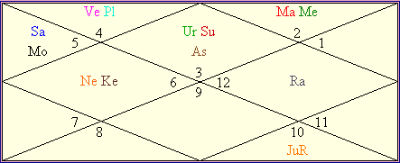 [Owing to the unavailability of credible birth-time of the celebrity, the analysis and predictions have been done on the basis of the Solar Chart/ Surya Kundli with the help of his birth-date and birth-place only.]
Astrological Predictions :-
The current transit of Jupiter over the Saturn of the Solar Chart will favour Venkaiah Naidu well and will give him the strength to overcome hurdles and obstacles, but it may not prove to be too wonderful, feels Ganesha.
Currently Rahu – Ketu are in the half-return phase and it may result in giving adverse effect to his chart, thereby creating problems and obstacles in his political career till January, 2016.
Besides this, transiting Saturn through the Sign of Scorpio in his Solar Chart and will be aspecting his retrograde Jupiter (debilitated) posited in the 8th House, will also be aspecting his Saturn, during its transit till January, 2017 may make the political atmosphere somewhat disturbing and unpleasant for him till some extent and he may find it difficult to overcome it. He may find it a bit difficult to outsmart the opposition which may be somewhat insensible on many occasions. But with the support of the other planets and Jupiter's grace, Venkaiah will find ways to deftly deal with problems, as and when they may arise. The Mars-Mercury combination in his horoscope indicates that he is a fast-thinking and a quick decision-making person. So it should not be a tough task for him, feels Ganesha.
In short, the planets do not seem completely favourable for the veteran minister currently, but he can still hold fort if he efficiently uses his experience and skills. Wisdom and calmness of mind will play an important role.
Ganesha wishes a great time ahead to Venkaiah Naidu.
With Ganesha's Grace,
Rantidev A. Upadhyay