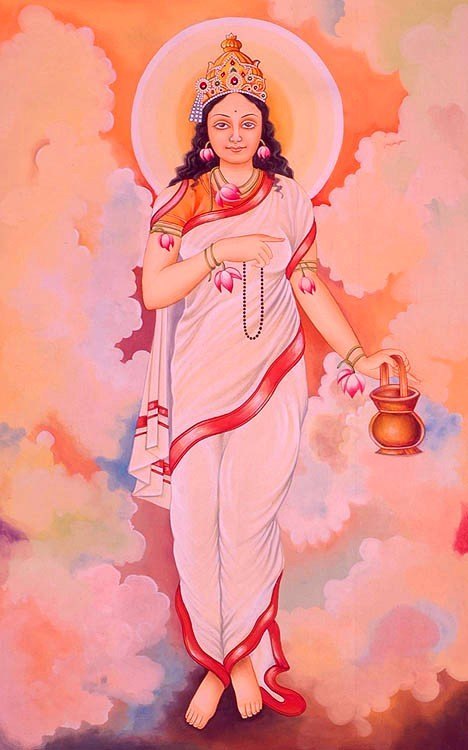 On the second day of Navaratri, Maa Brahmacharini – a manifestation of Maa Durga – is worshipped. The form of Goddess Brahmacharini is extremely radiant and majestic. Maa signifies love and loyalty, wisdom and knowledge. She holds a rosary in her hight hand and a Kamandal in her left hand. She wears Rudraksha. The word "Brahm" refers to Tapa (penance) – Her name means "one who performs Tapa (penance)".
She was born to Himalaya. Devrishi Narada influenced her thoughts and as a result, she practised tough penances as she was determined to obtain Lord Shiva as her divine consort. She spent hundred of years eating very little or nothing at all, but her penance was so pure and had so much strength, power that it caused great disturbance in all the three worlds. Her desire to obtain Lord Shiva as her divine consort was eventually fulfilled.
Goddess Brahmcharini blesses you with great emotional strength and you may be able to keep your mental balance and confidence even in the darkest hour. She inspires you to hold on to your ethics and march on the path of duty. By the grace of Maa Brahmacharini, you strive to move forward in life without getting disheartened by the numerous challenges coming your way. Her blessings help you get rid of selfishness, ego, greed and laziness.
Chant this mantra to seek Maa's divine blessings…
या देवी सर्वभूतेषु माँ ब्रह्मचारिणी रूपेण संस्थिता।
नमस्तस्यै नमस्तस्यै नमस्तस्यै नमो नम:।।
दधाना कर पद्माभ्याम अक्षमाला कमण्डलू।
देवी प्रसीदतु मई ब्रह्मचारिण्यनुत्तमा।।
Yā dēvī sarvabhūtēṣu mām̐ brahmacāriṇī rūpēṇa sansthitā |
Namastasyai namastasyai namastasyai namō nama: ||
Dadhānā kara padmābhyāma akṣamālā kamaṇḍalū |
Dēvī prasīdatu ma'ī brahmacāriṇyanuttamā ||
Navratri is a special occasion. A time for new beginnings and offering your dedication and reverence to the Goddess Shakti. This Navratri, bring home and institute a Meru Prusth Shree Yantra – a beautiful, divine symbol of the blessings of Goddess Lakshmi herself.