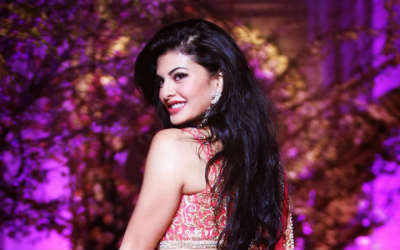 There would be very few people, whom Jacqueline Fernandez wouldn't have had been able to charm yet! Amongst the contemporary actresses, her gorgeous beauty and good-looks are considered to be very unique, probably of the exotic and intriguing types, wherein it becomes difficult to make out, what makes the woman so attractive and refreshing; she may not be that beauty who makes for a conventional heroine, but she is a sureshot stunner! Talk of multi-ethnic family backgrounds and cultures and Jacqueline makes for a perfect example, as her father is a Sri-Lankan and her mother is of a Malaysian and Canadian ancestry. She was born and raised in Bahrain, but she claims to have lived for the major part of her life before joining Bollywood in Sri Lanka. She is a Mass Communication graduate who won the Miss Sri Lanka Universe 2006 crown and it would be amazing to know that this pretty actress started her career just at the age of 14, with the ambition to become a TV Reporter and now we know where she has reached! Great luck and wonder of destiny, one would say!
Making her debut in 2011, in the launch vehicle of the great talent-scouter Mahesh Bhatt's Murder 2 – in which her role grabbed a lot of eyeballs, she has come quite a long way with some performances which cannot have been ignored or overlooked by anyone. She further convinced the movie-loving multitudes with her glamorous roles in Race 2 and Housefull 2. She got greater appreciation for her looks and acting in the Salman Khan blockbuster Kick – wherein she upped the oomph quotient of Heroines in Bollywood tremendously. This Sri-Lankan beauty will be next seen in Brothers, and later in Dishoom and The Flying Jat. How many goodies do the stars have in store for her? And, what may upset the petite actress in the months to come? Join Ganesha in his astro-ride and know the astrological picture awaiting Jacqueline…
Jacqueline Fernandez – Actress and Model
Date of Birth :- 11th August, 1985
Time of Birth :- Not Known
Place of Birth :- Colombo, Western Province, Sri Lanka
SOLAR CHART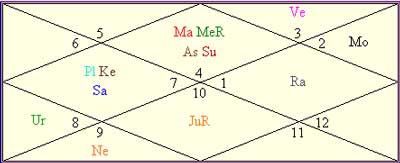 [Owing to the unavailability of credible birth-time of the celebrity, the analysis and predictions have been done on the basis of the Solar Chart/Surya Kundli with the help of her birth-date and birth-place only.]
Astrological Predictions:-
1) How will she fare in her forthcoming films?
Brothers Releasing on 14th August, 2015
On the day when 'Brothers' releases, there will be a Stellium of four planets – Sun, Moon, Mars and retrograde Venus in Cancer. This Stellium would be falling on Jacqueline's Sun, Mars and retrograde Mercury (again a Stellium) of the Solar Chart. This factor indicates that this movie will prove to be important for her career and and her growth in the industry. Her performance will be noticed well and will also be appreciated, says Ganesha.
2) Will she manage to become one of the ruling actresses in the coming few months, on the basis of her performances in her future films?
Not exactly. She is born with Venus in Gemini, bereft of any aspect. Considering the placement of Venus, it does not seem that she may become one of the reigning queens of Bollywood. However, she shall always be famous and her acting skills will get a lot of recognition and she will be considered on of the great actresses of the Film Industry. She may not become one of the top-level actresses in the coming few months based on her performance in her forthcoming films. But gradually, considerable success is foreseen.
Ganesha wishes a great time ahead to Jacqueline Fernandez and wishes her success for her forthcoming movies.
With Ganesha's Grace,
Rantidev A. Upadhyay