Great wealth and success await Emma in 2016, but she may be emotionally vulnerable…
Published on November 5, 2015
Emma Stone 
Date of birth :-  06th November, 1988
Birth Time :-  00.50 A.M.
Place of Birth :-  Scottsdele, Arizona, USA
NATAL CHART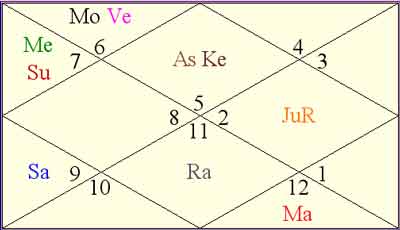 Astrological Observation:
Jupiter will be transiting over her Ketu , it will be aspecting her Saturn in the 5th House ,it will also be aspecting her Rahu in the 7th House of her  Natal chart, till 11th August 2016.
Saturn will be  aspecting her Jupiter in the 10th House, it will also be aspecting her Ketu, till January 2017.
Rahu will be transiting over her Moon and Venus in the 2nd House and Ketu will be transiting  over her Mars in the 8th House till 30th January, 2016. After that, Rahu – Ketu half return will start and will operate for 1 1/2 years.
She will be under the influence of the major period of Rahu and small period of Venus till 5th September, 2017.
Astrological Predictions:
She will be under influence of sub period of Venus which will make her performance better in her forthcoming  projects/films/Album till 5th September, 2017. During the year ahead Emma will be keeping herself  active and busy. She will be swimming in wealth in the year ahead, say the stars as all the wealth areas of her Chart are under benefic influences.
She may have to look after her health especially till January 2016. This may effect her performance if she remains careless. She will have to control her emotions as well. It would be better if she follows a systematic routine and schedule. Ganesha advises her to  take care of her emotional health and it would be better to avoid differences with beloved/in affairs. She may face issues related to commitment in relationships.
During the year ahead she may come across magnificent projects.
Sudden fluctuations in the inflow and expenses are foreseen but it  won't affect her financial situation much. It's just a passing phase.
Ganesha concludes that the year ahead may be stressful at times, but a lot of progress and success is also in store.
Ganesha wishes a great time ahead to Emma Stone.
With Ganesha's Grace,
Rantidev A. Upadhyay
The GaneshaSpeaks.com Team