GTL Infrastructure, a Global Group Enterprise, was established in 2004. The pioneer in Shared Telecom Infrastructure in India, GTL Infrastructure is a provider of infrastructure and services to Telecom operators. It undertakes a full range of responsibilities in building and maintaining the sites.
GTL Infrastructure, which announced the acquisition of Aircel?s 17,500 Telecom towers deal for Rs. 8,400 cr on 15th January, 2010, will raise the money through a mix of debt and equity. Manoj Tirodkar, the chairman & managing director of GTL group, who was ostracised by the market about a decade ago for his alleged involvement in a stock market scandal, is back. The deal came as a surprise to many who had written off the company after the stock market scandal.

Ganesha takes the help of Vedic astrology to find out what is in store for GTL Infrastructure in the coming years and whether GTL Infrastructure will be able to make its mark in the market, once again.

Astro Analysis: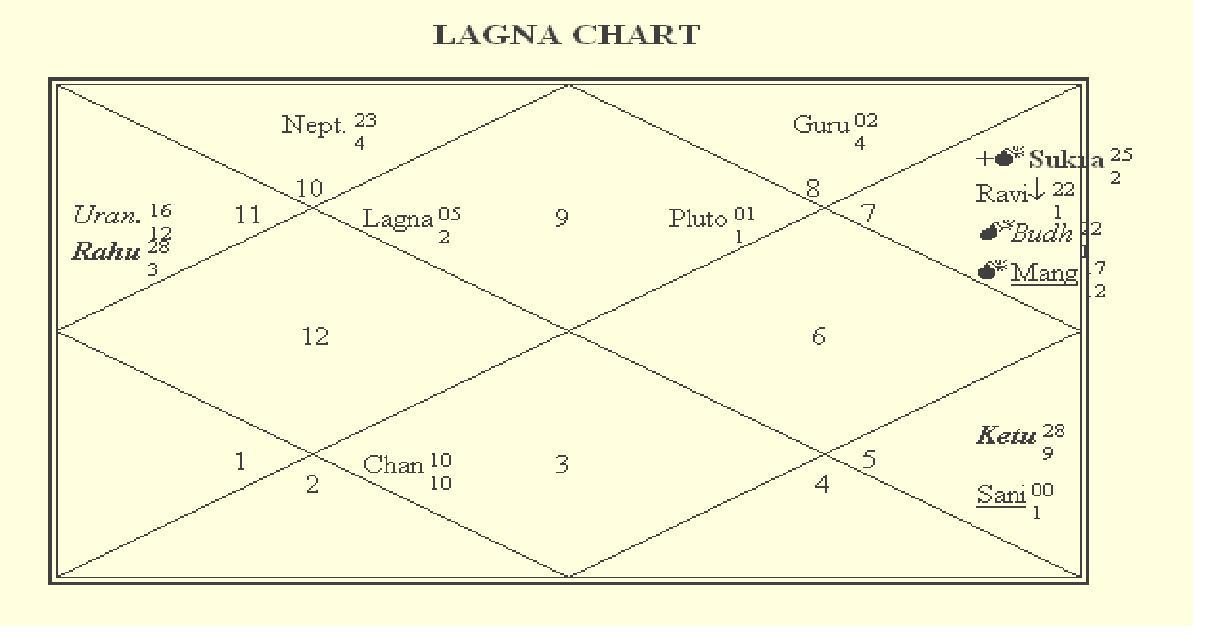 Jupiter, the Lord of the Ascendant and 4th House, is posited in the 12th House. Sagittarius, is posited in Mula constellation of the 2nd pad, and is also the sign denoting the 1st House.
On the other hand, Moon is posited in the Ardra constellation of the 2nd pad. Hence, the constellations of both the 1st House and Moon, get disturbed.
In the natal chart of GTL Infrastructure Limited,  Saturn and Ketu are in combination in the 9th House. This combination is unfavourable.
Venus, Sun, Mercury, and Mars are in combination in the 11th House. Venus, Mercury and Mars are combusted. Also, Sun, the Lord of destiny, representing internal affairs, is debilitated.

What's next for GTL?

Currently, Jupiter's transit through the 3rd House is favourable, especially for the electronic and print media. This period will bring in an overall prosperity to the departments accredited to the 3rd House. The employees will have a reason to be happy as their salaries will improve. The company will do profitable business in the field of publishing.

Saturn is also transiting in the 10th House. Under this unfavourable transit, the company may suffer and may resort to mobilization of resources. The company may fail to achieve its set targets. Saturn transiting in the 10th House assumes great importance, particularly with respect to the head of the organization. It alleviates the person to a great height, but the person gets exhausted soon and loses power.

Rahu transiting in the 1st House may further invite trouble in the form of a propaganda against  the company. Ketu transiting through Natal Moon may cause reduction in business activities, paucity of resources and a slump in production. Restlessness may prevail in the routine functioning, and profit making activities may slow down.

Saturn will pass through Libra and a major star of Libra between 17th November, 2011 and 2nd November, 2014. These transits are unfavourable. The company may not receive any benefits from the Government.

Overall, Jupiter transiting in the 3rd House in the Natal chart of GTL Infrastructure Limited, may favour the company's deal with Aircel, however, the company will have to strive hard to achieve success as Rahu which is posited in the 3rd House, is unfavourable.
Short Term:- Hold
Medium Term: – Sell
Long Term:- Hold


Ganesha's Grace
Dharmesh Joshi
The GaneshaSpeaks Team