Know Everything about About Vrishabha Sankranti
14 May 2020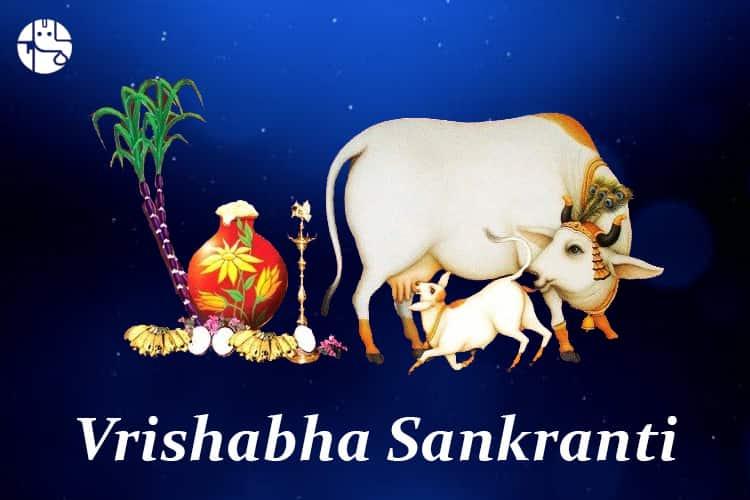 Vrishabha Sankranti marks the transition of the Sun from the zodiac sign of Aries to that of Taurus and the beginning of the second month Jyeshta according to the Hindu calendar. The word 'Vrishabha' means a bull, known as Nandi, who is considered the vehicle of Lord Shiva. Therefore, cows have been worshiped amongst the Hindu devotees. The gifting of cows holds an auspicious trend on this day. Devotees offer Pitru Tarpan and worship Lord Vishnu to welcome a happy and prosperous life.
Significance Of Vrishabha Sankranti
Just like other 12 Sankrantis in the Hindu calendar, Vrishabha Sankranti is also an auspicious day to perform charitable activities. But, only a specific time is considered shubh for observing all Sankranti related activities. Sixteen Ghatis before Vrishabha Sankranti moment is considered auspicious and thus should be counted for all charitable activities.
On the auspicious day of Vrishabha Sankranti 2020, 'Godan – a practice of donating holy cows to a respected Brahmin is considered very fortunate. Special arrangements are made in the temples on this day, devotees visit Lord Vishnu temple to seek wisdom to be able to differentiate between good and evil. People worship Lord Vishnu to be blessed with a happy and prosperous life and to get freedom from the continuous cycle of rebirth and attain salvation.
Important Date And Timings For Vrishabha Sankranti
Vrishabha Sankranti Date : 14th May 2020
Vrishabha Sankranti Punya Kaal – 9.42 AM to 4.03 PM
Vrishabha Sankranti Maha Punya Kaal – 2.04 PM to 4.03 PM
Vrishabha Sankranti Moment – 4.03 PM
Vrishabha Sankranti Rituals
Follow the proper Vrishabha Sankranti rituals on this auspicious day in order to bring health, happiness, and prosperity.
Wake up before sunrise and take a pious bath in the river and pay homage to Lord Surya and also your forefathers.
Perform Pitru Tarpan to pacify your ancestors.
You can also observe Vrishabha Sankranti fast.
Worship Lord Shiva and Lord Vishnu.
Prepare Payasam or Kheer as a prasad according to the Vrishabha Sankranti rituals.
Offer the prasad to Lord Shiva and Lord Vishnu.
Serve the prasad to other members of your family.
Feed the prasad to the domestic cows.
Donate a holy cow to a respected Brahmin family.
Remember, you should sleep on the floor during the night.
Benefits of Vrishabha Sankranti
If you pray to Lord Shiva and Lord Vishnu with great devotion and honesty and involve in charitable deeds like donating to the poor, Ganesha says you will invite peace, harmony, and prosperity to your family.
Ganesha wishes you a Happy Vrishabha Sankranti.
To Get Your Personalized Solutions, Talk To An Astrologer Now!
With Ganesha's Grace,
The GaneshaSpeaks.com Team