The Birthday Of Lord Vishnu's 4th Avatar – Narasimha Jayanti 2021
25 May 2021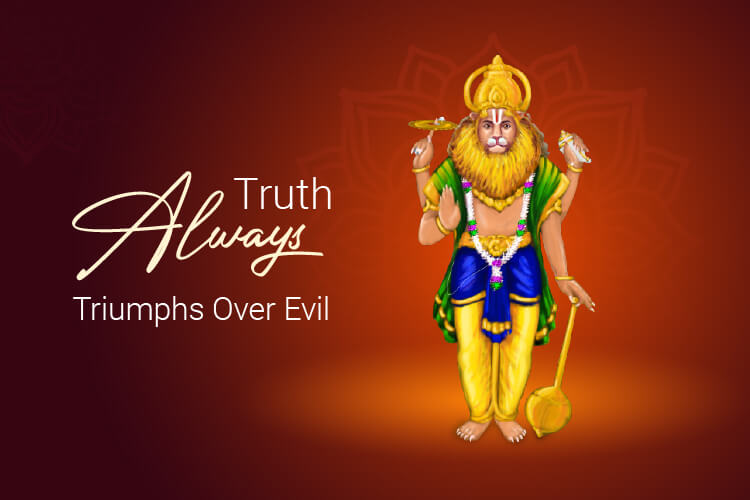 Narasimha Jayanti is considered an extremely auspicious festival among the Hindus. On this particular day, Lord Vishnu had come down to Earth as Narasimha (half man and half lion form), his 4th incarnation. Hence, this day is observed with great delight as Narasimha Jayanti. It is celebrated to negate any sort of negative forces from life and abstain from ill deeds as well as injustice. This day is suitable for the removal of hidden negativities that can impact your health, career, finance, love life, or even family.
With your 2021 Yearly Report gain insights on these areas of your life.
Narsimha Jayanti 2021 Date And Tithi
The festival is celebrated on the 14th day of the Shukla Paksha known as Vaisakh Chaturdashi. Narasimha Jayanti 2021 will be observed as per the below date and timings:
Narasimha Jayanti: 25th of May, 2021, Tuesday
Narasimha Jayanti Sayana Kala Puja Time: 4:26 PM to 7:11 PM
Narasimha Jayanti Madhyanha Sankalp Time: 10:56 AM to 1:41 PM
Chaturdashi Tithi Starts: 25th of May, 2021, 12:11 AM
Chaturdashi Tithi Ends: 25th of May, 2021,  8:29 PM
Narasimha Jayanti Significance 
The goal of Narsimha Jayanti is to nullify Adharma and walk the path of Dharma. One who observes fast on this day and prays to the Lord with integrity will be blessed with wish fulfilment. Moreover, it is said that if anyone shows hostility towards others then that person should pay regard to Lord Narasimha on this day with devotion and this will make them calmer. Lord Narasimha saves his followers from evil eyes and conspiracies in life.
Rituals For Narsimha Jayanti 
There are certain Puja rituals performed on the day of Narasimha Jayanti to gain the grace of Lord Vishnu. They are as below:
Wake up before sunrise.
After taking a bath, start worshipping Lord Narasimha.
Offer Chandan powder (sandalwood), Kesar (saffron), coconut, fruits, and flowers.
Chant 'Narasimha Gayatri Mantra' after this.
Devotees who conduct fasting should donate things like til (sesame) or gold as per their convenience.
Narasimha Jayanti Story
There lived a Rishi (Sage) named Kashyap in India long back. He and his wife, Diti had two sons namely Hiranyaksh and Hiranyakashipu. It is said thatthe Varaha Avatar (Boar) of Lord Vishnu had killed Hiranyaksh. Due to this, Hiranyakashipu pledged to avenge the death of his brother. In his intent to defeat Lord Vishnu, he performed a profound Tapasya (Penance) and pleased Lord Brahma to attain the boon of being unconquerable. 
Hiranyakashipu started misusing this power. He gained control over heaven with his evil intentions and began to harass the Gods, Rishis, and Munis (Ascetics). That time around, a baby boy naed Prahlad was born to his wife Kayadhu. Despite being born in the demon family, Prahlad who was a staunch devotee of Lord Vishnu worshipped him with utmost devotion and love. He did not fear his father's reprimand and continued his reverence for the Lord. Enraged by this, Hiranyakashipu set an intention to kill his own son.
Hiranyakashipu's many attacks on Prahlad went in vain due to Lord Vishnu's grace. Feeling hopeless, he then decided to burn his son alive. Prahlad was impelled to sit in the fire together with his aunt Holika who had the boon of not being burnt in fire. But, Lord Vishnu's Leela (divine play) made it possible and Holika died in the fire, leading Prahlad out of the fire without being hurt. Fierce Hiranyakashipu then held Prahlad and asked him, "Where is your God?". He banged his weapon on the side pillar and asked him again to show his God.
To his utter shock, Lord Narasimha appeared out of the pillar. Hiranyakashipu had the boon of not being killed by Devas, either in human or animal form, neither during the day nor the night. He couldn't even be killed on the earth or space, and no weapon could be used. Hence, Lord Vishnu emerged in the body of Narasimha, half-man and half-lion. He laid Hiranyakashipu in his lap and killed him using his sharp nails.
May the Lord protect you all from the negativities in life and grant you with peace, prosperity and happiness. Happy Narasimha Jayanti.
Attract Good Luck With Your Personalised Horoscope On The Auspicious Day Of Narasimha Jayanti! – Get Your Free Consultation!
With Ganesha's Grace,
The GaneshaSpeaks.com Team
Astrologers trained by Shri Bejan Daruwalla.