Ganga Saptami Or Jahnu Saptami: Importance And Respective Rituals
18 May 2021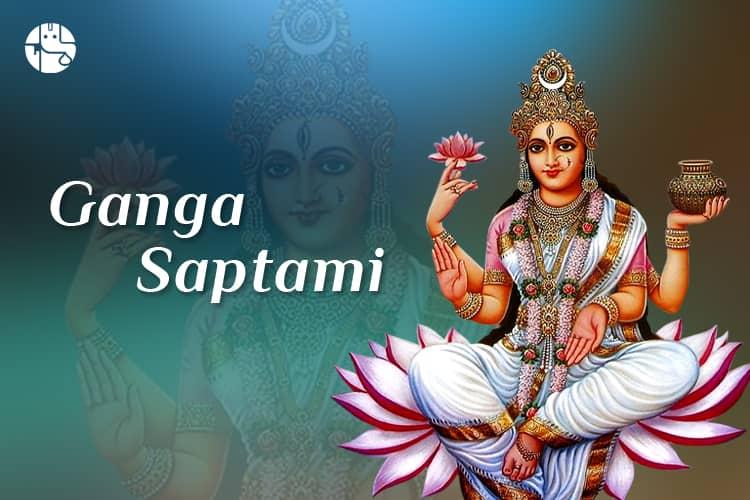 In Hinduism, river Ganga is considered as the holiest river and is worshipped as a Goddess. Thus, Ganga Saptami is observed to be an auspicious day for Hindus and is dedicated to Goddess Ganga. It is also known as Jahnu Saptami, and Ganga Pujan is the day celebrated to honor the rebirth of Goddess Ganga.
As per the Hindu calendar, Ganga Saptami is celebrated on the 7th day of the waxing phase of the moon during the month of Vaishakha, also known as Baishakh, i.e on the Saptami of the Shukla paksha. On this day, special pujas and prayers are offered by devotees in most of the Hindu pilgrimage places where River Ganga passes from including Rishikesh in Uttarakhand, Triveni Sangam in Allahabad, etc. In North India, it is the day celebrated with full zeal and enthusiasm. Let's know the significance of Ganga Saptami and the legend behind this festival:
Ganga Saptami 2021 Dates and Timings
This year Ganga Saptami will be celebrated Tuesday, May 18, 2021. Below are the important dates of Jahnu Saptami:
Ganga Saptami Madhyahna Muhurat – 10:56 to 13:40
Duration – 02 Hours 44 Mins
Saptami Tithi Begins – 12:32 on May 18, 2021
Saptami Tithi Ends – 12:50 on May 19, 2021
If you want to conduct this puja according to the right rituals, connect with our expert astrologers.
Legend Behind Ganga Saptami Celebration
One of the popular stories regarding the Ganga Saptami is related to the king named Sagara who performed almost ninety-nine ashwamedh yagya for forming his supremacy and showing his might. He was looking forward to performing hundredth yagya to maintain his winning streak. Knowing his successful record, Indira got scared as he thought that Sagara will be more powerful than him and unconquerable. Therefore, Indira stole the horse and hid it in the ashram of Sage Kapila to stop Sagara from succeeding.
King Sagara ordered his sixty thousand sons to search for the horse, however, none of them were able to succeed. Finally, they did reach the ashram of sage Kapila where he was doing the tapasya unaware of the presence of horse in his ashram. Sons of King Sagara accused Sage Kapila of stealing the horse. This accusation angered the sage a lot, hence, he cursed the sons. He burnt them in ashes and said their souls will not get moksha.
Years later, the successor of Kapila named Bhagirath took the responsibility of reliving the ancestors from the patala lok. He meditated for pleasing Lord Brahma who suggested that he will Ganga on earth for liberating the forefathers. As Ganga is a holy and special river, one needs to absorb her torrential current and force. Hence, Bhagirath appealed to Lord Shiva to hold Ganga in his matted locks. The force of Ganges reduced after passing through the matted locks of lord. On her way, there is a hermitage of sage Janhu which got wiped out. He drank all the water of this river to give her punsihment.
Bhagirath appealed to Janhu about the significance of river Ganga, to which he released the water through his ear. As Ganges reborn through sage Janhu, her name was also called Janhvi. After the birth, the Ganges liberated the souls of sixty thousand sons of king Sagar.
If you want accurate predictions and answers of your questions, get a detailed 2021 report from our experts.
Significance Of Ganga Saptami
In the holy scriptures like Padma Purana, Brahma Purana, and Narada Purana, the significance and the legend behind the Ganga Saptami is mentioned. As per the Hindu Mythology, it is believed that Goddess Ganga first came down to Earth on the day of 'Ganga Dussehra'. But it once happened that Saint Jahnu drank the water from river Ganga. However, after being requested by Gods and King Bhagiratha, Sage Jahnu released Ganga once again on the day of Shukla Paksha Saptami in Vaishakha month. From then onwards, this day is celebrated as Ganga Saptami and it marks the rebirth of Goddess Ganga. Furthermore, being the daughter of Rishi Jahnu, Goddess Ganga is also called 'Jahnavi', and as a consequence, this day is also referred to as 'Jahnu Saptami'.
In India, river Ganga is considered very sacred. The celebrations and rituals performed on Ganga Saptami are very well-known in the places where Ganga and its tributaries flow. For Hindu devotees, who worship Goddess Ganga, this day is very promising and they also take a dip in the holy water. It is believed that taking a pious bath in River Ganga can rid people of all the sins. Many Hindu devotees also desire to be cremated close to River Ganga as it leads them to the path of Moksha. This festival is also significant astrologically.
According to Vedic astrology, a person can reduce the effect of Mangal Dosha by worshipping Goddess Ganga on this day, for it diminishes the influence of 'Mangal' in a birth chart.
Rituals To Be Performed On Ganga Saptami
Here are some of the rituals you should follow on this day:
Get up early in the morning before sunrise and take a holy dip in the River Ganga. Besides, worship Goddess Ganga, as it is considered very favorable.
One can immerse a garland across the River Ganga and participate in the famous Ganga Aarti. The Ganga Aarti has special importance because "Maa Ganga" is believed to descend on Earth from heaven on this day.
This is performed at several Ghats and millions of devotees from different parts of India participate in this aarti.
After the Ganga Aarti is over, saints circulate the lamp to all those who are present. Cup your down-turned hands over the flame and raise your palms on the forehead to seek purification and blessing. Here, the aarti consists of small diyas and flowers that are later floated down the river.
On Ganga Saptami, the ceremony of Deepadan or the donation of a deep or a lamp is followed. Huge fairs are also organized near the banks of the holy river.
Reciting the Ganga Sahasranama Stotram and 'Gayatri Mantra' is also viewed to be very auspicious on Ganga Saptami.
Wrapping Up:
Ganga is viewed to be a 'Devi' or Goddess for Hindus and thus, devotees worship her with complete dedication and devotion on the Ganga Saptami. This bestows them with happiness, fame, and salvation.
Attract Good Luck With Your Personalised Horoscope On The Auspicious Day Of Ganga Saptami! – Talk To Expert Astrologer Now!
With Ganesha's Grace,
The GaneshaSpeaks.com Team
Astrologers trained by Shri Bejan Daruwalla.