Let's Welcome Prosperity Into Our Lives This Akshaya Tritiya 2021
14 May 2021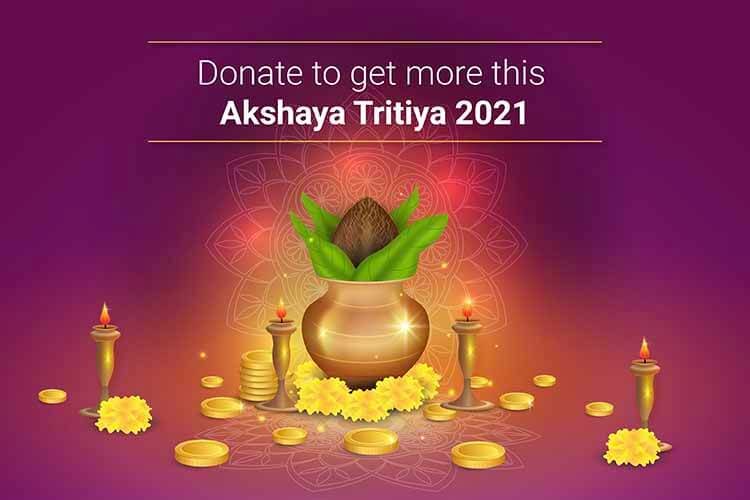 It's time for the grand event of yet another auspicious day in the Hindu month, Akshaya Tritiya 2021! Yaas, also known as Akha Teej, this magnificent day is considered favourable for new beginnings and activities in India. It is said that buying new furniture, vehicles, or things, and starting a new venture on this day increases prosperity in life. For those planning to buy Gold, wait till Akshaya Tritiya and go for the purchase on this pious day. The word "Akshaya" signifies immortality or eternal. People worship the duo Lord Ganesha and Goddess Lakshmi on Akha Teej and make donations to the needy, which  is said to be beneficial.
Akshaya Tritiya 2021 Date And Puja Muhurat
Akha Teej is celebrated on the third day of Vaishakh month that usually falls between April and May every year as per the Hindu Calendar. This year's date of Akshaya Tritiya is as below:
Akshaya Tritiya: 14th of May, 2021, Friday
Akshaya Tritiya Puja Muhurat: 5:38 AM – 12:18 PM
Tritiya Tithi Starts: 14th of May, 2021, 5:38 AM
Tritiya Tithi Ends: 15th of May, 2021, 7:59 AM
What do the stars have in store for you in the year head? Know it with your 2021 Detailed Report and gain insights from expert astrologers.
Astrological Importance Of Akshaya Tritiya 
Akha Teej is observed once a year when the Sun and the Moon are in exaltation along with being at the peak level of brightness during the day. Indeed a rare phenomenon, isn't it!
In Vedic Astrology, the 3 lunar periods are believed to be extremely auspicious during the year. These phases are also called 'Sade Teen Muhurat'. The 1st lunar phase of the Chaitra Shukla Paksha, the 10th phase of Ashvin, the 3rd period in Vaisakha, and the 1st phase of Kartik Shukla Paksha. The first 3 phases are known as the full phases of lunar month while the last one represents half phase.
Akshay Tritiya Story
Many of you may know that Akshay Tritiya is connected to Lord Krishna and his Brahmin friend Sudama during childhood. On the day of Akha Teej, Sudama went to meet Lord Krishna in Dwarka seeking some financial aid. The Lord welcomed Sudama warm-heartedly and used to follow the approach of 'Atithi Devo Bhava' (meaning a guest is a form of God).
Seeing the riches of Lord Krishna, Sudama felt humiliated to offer his gift. He had brought a bowl of 'Poha' that Krishna accepted with immense sincerity. He enjoyed this gift as a testimony of friendship, sweetness and care. Sudama, who was ashamed of asking for financial help, returned home with a calm heart. To his sheer surprise, Sudama discovered that his poor hut was turned into a palace! His integrity and simplicity were taken as the symbol of  friendship, unconditional trust, and kindness by Lord Krishna. Thus, the day of Akha Teej is said to bring great material gains and abundance.
Know about the impact of Mars transit in Gemini on your zodiac sign and stay ahead of the upcoming challenges.
Akshaya Tritiya Rituals
One should practice austerity and follow the below rituals on the pious day of Akshaya Tritiya:
Wake up early and take a cleansing bath.
Conduct fasting during the day.
Offering flowers and sandalwood paste to Lord Vishnu and Parvati Devi, pray with an intent of bringing blessings in life.
You can also offer prayers to Goddess Lakshmi and Lord Kubera to gain blessings in Wealth.
Perform the puja vidhi by offering milk, chana dal, wheat, gold, and clothes. Book an online Puja performed by the renowned Pandits and bring plethora blessings in your life this Akshay Tritiya!
Recite the 'Vishnu Sahasranam' with devotion.
For Prsadam, cook 'Poha' to appease Lord Krishna.
Feeding grass to cows and calves as well as donating to the poor and brahmins will bring divine grace.
Akshay Tritiya Puja Mantra
Chanting the below mantra is known to bring peace of mind and good health:
"Jamadagnya mahaveera kshatriyaantha kara prabho
Gruhanarghyam mayadattam krupayaa parameshwaraa"
For a boost in your wealth this auspicious Akha Teej, chant the below mantra:
"Kubera Twam Danadeesam Gruha Te Kamala Sithta
Tam Devem Prehayasu Twam Madgruhe te Namo Namah"
May the Lord solve all your problems and bless you with prosperity and abundance in life. Happy Akshay Tritiya!
Attract Good Luck With Your Personalised Horoscope On The Auspicious Day Of Akshay Tritiya! – Get Your Free Consultation!
With Ganesha's Grace,
The GaneshaSpeaks.com Team
Astrologers trained by Shri Bejan Daruwalla.
View All Festivals