Let's Understand The Glory Of Divine Wisdom This Shankaracharya Jayanti 2021
17 May 2021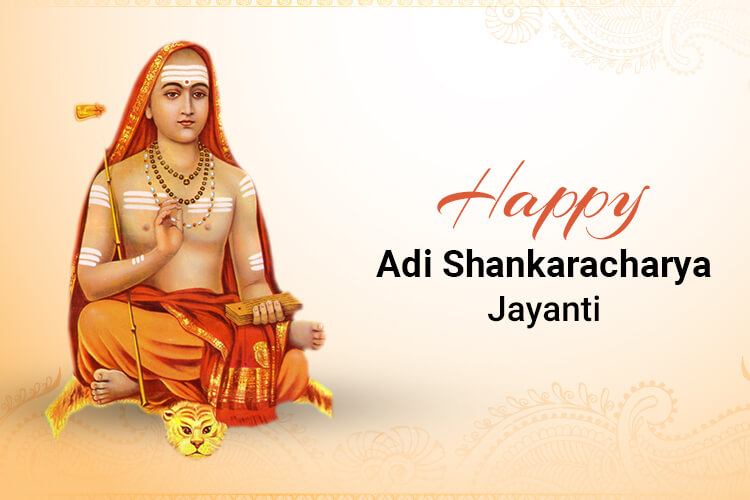 With many well-known philosophers across ancient India, Adi Shankara was one of the greatest sages of that time. His birthday is celebrated as Shankaracharya Jayanti all over the country with great fervour. He was born in the region of Kalady in Kerala, and passed away when he was 32. He rescued Hindu culture when it was declining by merging the doctrine of Advaita Vedanta philosophy.
Adi Shankaracharya Jayanti 2021 Date
Shankaracharya Jayanti falls on the 5th day of Shukla Paksha during the Vaishakh month. The date and muhurats for this year are as below:
Adi Shankaracharya Jayanti: 17th of May, 2021, Monday
Panchami Tithi Starts: 16th of May, 2021, 10:00 AM 
Panchami Tithi Ends: 17th of May, 2021, 11:34 AM
Access your Janampatri to know what your birth date and timing indicate for the upcoming situations in your life.
Life Story Of Adi Shankaracharya 
Adi Shankara's parents were passionate worshippers of Lord Shiva. He is also believed to be an avatar of Lord Shiva who had granted the couple's prayer for a child. Shankaracharya wanted to be a Sanyasi, but his mother Aryambal denied this choice. One day, he went to take a bath in the river, and got caught by a crocodile. He called up to his mother in a sorrowful cry. Despite trying several times, his mother could not relieve him from the crocodile.
Adi Sankara pleaded and asked permission for Sanyas one last time, in view that he might be saved. Very hesitantly, she agreed and Sankaracharya recited the mantras to assume Sanyas. By surprise and the effect of the powerful mantras, he was freed by the crocodile without getting hurt. Then, he renowned the world and went on his life path.
Shankaracharya journeyed all over India in between the age of 16 and 32. He travelled and conveyed messages of the Vedas to the people. His scriptures showcase at their very core this divine knowledge, "Brahman, Pure Consciousness, is the Absolute Reality". Shankar's teachings still continue to touch the hearts of the people all across the globe.
Works Of Adi Shankaracharya
Adi Shankaracharya was a phenomenal poet and he held the Divine in his heart with an overflowing love. His compositions include 72 meditative and devotional hymns; a few of them are – Nirvana Shalkam, Soundarya Lahari, Maneesha Panchakam, and Sivananda Lahari.
He has also written 18 commentaries on the primary texts such as the Bhagavad Gita, the Brahma Sutras, and 12 important Upanishads. Shankara also authored 23 books on the basics of the Advaita Vedanta philosophy explaining the truth of the one singular or undivided Brahman. Atma Bodha, Viveka Chudamani, Upadesa Sahasri, and Vakya Vritti are few of them.
What does the year 2021 have in store next for you? Get answers with your 2021 Yearly Report written by experts.
Quotes Of Adi Shankaracharya 
Let's celebrate Adi Shankracharya Jayanti with these quotes given by the sage:
Do not be proud of wealth, people, relations and friends, or youth. All these are snatched by time in the blink of an eye. Giving up this illusory world, know and attain the Supreme.
Do not look at anybody in terms of friend or foe, brother or cousin; do not fritter away your mental energies in thoughts of friendship or enmity. Seeking the Self everywhere, be amiable and equal-minded towards all, treating all alike.
The world, like a dream full of attachments and aversions, seems real until the awakening.
Knowing that I am different from the body, I need not neglect the body. It is a vehicle that I use to transact with the world. It is the temple which houses the Pure Self within.
To be free from bondage the wise person must practise discrimination between One-Self and the ego-self. By that alone you will become full of joy, recognising Self as Pure Being, Consciousness and Bliss.
Each thing tends to move towards its own nature. I always desire happiness which is my true nature. My nature is never a burden to me. Happiness is never a burden to me, whilst sorrow is.
Like the appearance of silver in mother of pearl, the world seems real until the Self, the underlying reality, is realized.
Attract Good Luck With Your Personalised Horoscope On The Auspicious Day Of Adi Shankaracharya Jayanti! – Talk To Expert Astrologer Now!
With Ganesha's Grace,
The GaneshaSpeaks.com Team
Astrologers trained by Shri Bejan Daruwalla.